The Remarkable Story of the Horsewomen Warriors of Afghanistan
Pardis Mahdavi on Unearthing a Story of Ferocity and Survival
A few years ago, while sorting through old papers in my parents' storage unit, I discovered a diary written by an old friend. Louise Firouz was an American horsewoman and breeder who moved to Iran in the 1960s, married a Qajar prince, and became entranced by the Caspian horses of her adopted homeland. Her memories and the experiences she wrote about led me to unearth a story of survival—women saving a rare breed of horse, a way of life, the lives of US Green Berets, women saving each other and themselves. It is a remarkable story that is very close to my heart, because the female horse warriors Louise befriended and collaborated with for decades were members of my very own family, my aunts and my grandmother.
Louise and my grandmother worked in harmony with an ancient breed of horses called the Caspian horse to support a growing all-female army of horsewomen warriors in Afghanistan. These women, led by a general named Mina, successfully defended their homelands, horses, and families from some of the world's most elusive enemies—the Taliban, Russian invading armies, warlords, and opium cartels. Inspired by thousands of years of horsewomen warriors dating all the way back to the Persian empire, these women will inspire generations to come.
 *
Boom! Boom! Two more explosions snapped Mina out of her reverie. She stood tall and remembered the sperm bag. In one smooth motion, Mina grabbed the bag and then remounted her mare, Banu. She had a gun and two bandoliers stocked with bullets slung in an X formation across her chest. Her mother told her that she reminded her of Maryam: small in stature but one of the largest women she had ever met. Fearless.
"We need to get out of here," Louise shouted in Farsi. Though different in rhythm and intonation, Farsi and Dari were closely related enough that Louise and Mina could communicate with the help of frequent hand motions and the shared language of horses. Mina could sense the urgency in Louise's voice.
Mina squinted her mischievous brown eyes and shook her turbulent curls. She was one of the few women who rode without a makeshift helmet of any kind. Banu reared up on her hind legs, and Mina let out a warm laugh, as if she had not a care in the world.
"Louise, if we thought like you, we wouldn't be who we are. We don't leave our lands, our homes. No. We make them leave," she said, pointing across the ridge at the men launching grenades, firing guns, and riding ever closer. "They will never take the land that is ours. Never."
"But, Mina, we're outnumbered."
"The Taliban always outnumber us. But we outsmart them."
Banu reared, and Mina roared forward. Their army of women thundered past Louise and out of the caves, trilling their tongues in battle cry. They wore bandoliers slung over traditional dress, and their heads were wrapped in checkered scarves that blew in the wind. Their scarves were not for modesty, but for keeping their hair off their faces and necks. They were for shielding their eyes and mouths from dirt.
The pink-sherbet sunrise faded into orange as dirt rained down around them. Mina had grown accustomed to a thin layer of grime coating her eyebrows and lashes from the wind, but the clumps tearing through the air from the explosions obscured her vision almost entirely. She sent a silent prayer of gratitude to her mother in heaven. She was grateful that Ghashang had trained her and the other women to fight blindfolded. Mina knew exactly what to do, and she knew she could trust her horse to lead the way while she sharpened her hearing and took shots at enemies by sound.
"Louise, if we thought like you, we wouldn't be who we are. We don't leave our lands, our homes. No. We make them leave."
"Yallah yallah, let's go!" Mina shouted, cutting to the right alongside four of her soldiers. Five other women rode left. Five more rode straight, while the last five made kissing noises to halt their horses. Louise, disoriented and frightened, remained at the cave entrance halfway down the hill and watched the women surround the men.
Mina clucked her tongue, and her soldiers broke out into a high-pitched hiiiiiliii liiiiiii liiiiii as they rode around the Taliban in a choreographed dance.
"Khanoumha?!" shouted one of the youngest men, who had only just registered that he and his companions were being attacked by a group of women. Mina used that brief moment of confusion to pull a knife from her boot and fling it at the man's chest. In less than a second, he was on the ground, gushing blood. His mount, the first of the enemy horses to defect, came running out of the circle toward where Louise and Khosrow II were waiting. With trembling hands, Louise coaxed the wild- eyed animal to stand next to her horse, whose calm presence worked to still the new member of the herd.
The Taliban were well armed but not well trained. None of the men looked nearly as comfortable on horseback as the women. Mina knew she, her soldiers, and her horses could outsmart them. The trick would be minimizing casualties.
Meanwhile, the Taliban couldn't control their now panicking horses, who weren't adapting well to the tight quarters. When the Arabians bucked, the men fell to the ground, and the women fired.
Rattle, snap, rat- a- tat- tat, boom!
Ghashang had prepared them well. Mina and her warrior women were relentless. They encircled the men again, firing until every last man had either fled or crumpled to the ground.
Mina let out another high-pitched trill. "Women gather around," she ordered. "Survey the damage. Take the injured women and horses up to the caves. Alert the nurses."
Mina swung Banu around with the squeeze of her right foot. The horses pounded in and out of the wreckage. Several dead horses and a half-dozen dead men. Mercifully, none of her women had died, but some were wounded. Mina fought a tear, though she wasn't sure if it was relief or the release of adrenaline pouring out of her.
_________________________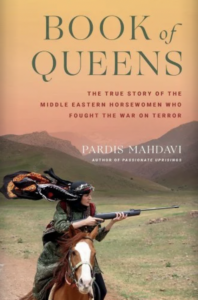 Excerpted from Book of Queens: The True Story of the Middle Eastern Horsewomen Who Fought the War on Terror by Pardis Mahdavi. Copyright © 2023. Available from Hachette Books, an imprint of Hachette Book Group, Inc.
---